Limited Edition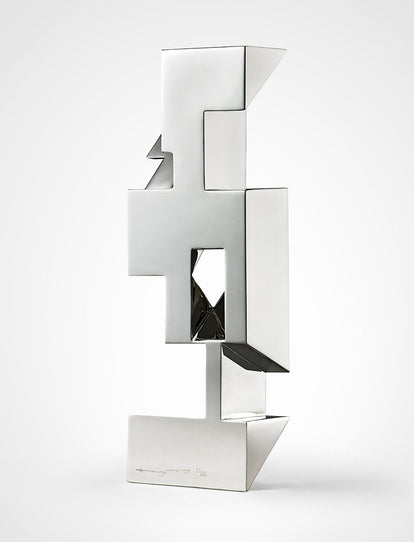 | | |
| --- | --- |
| Gender | Object D'Art |
| Code |  05010200007 |
| | |
Testigo del Silencio features the artist's experimentation with the aesthetic effects of movement and the creation of sequences.  Witness Silence is a work made by TANE and Xavier Melendez. Born in Torreon, Coahuila, Mexico, he obtained his title of Architect in 1962. In 1969 he began as an industrial designer and began to investigate the qualities of glass as a sculptural element after specialized training in Europe. In 1975 he became known as a specialist in the elaboration of glass objects during the exhibition Design in Mexico; Retrospective and Perspective. That same year he was awarded the National Design Prize. At first, his production alternated between liquid abstraction and geometric construction. Shortly after the latter ended up becoming absolutely dominant. In this work, the author's language in glass is expressed in silver, thus achieving a unique work in his trajectory.

TANE is proud to be the first-ever Latin American brand named Officially Certified Member of the Responsible Jewelry Council.

TANE operates with ethical, social and environmental responsibility, leading change and building trust.
Not available
We will send you an email once the product is available. Your email address will not be shared with anyone else.