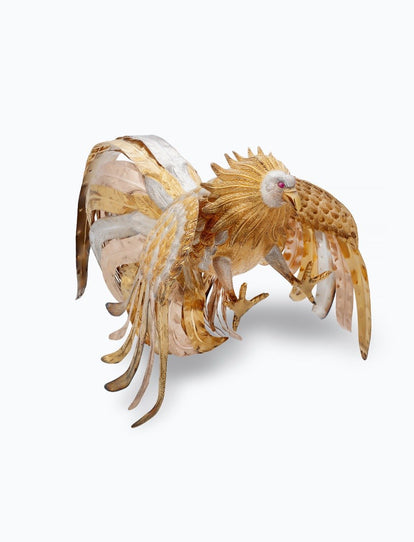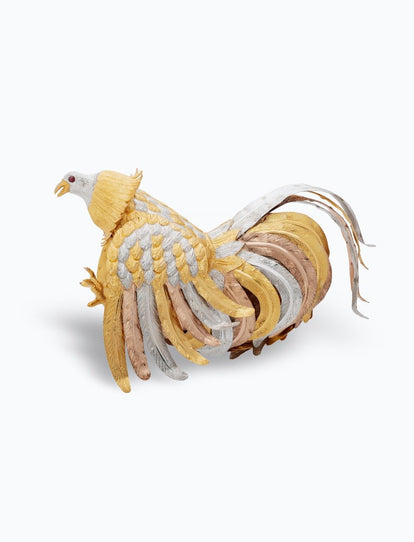 | | |
| --- | --- |
| Material |  Sterling silver with 23 karat yellow gold vermeil, 18 karat rose gold vermeil and cabochon-cut oval rubies.salto_linea |
| Dimensions |  8.66" x 7.87" x 8.26" |
| Code |  03010300006 |
| | |
An unmistakable emblem of the brand is the rooster and its plumage. It represents the fight, pride and transcendence in the nation's imaginary. TANE began making its unmistakable roosters in 1961, in order to immortalize the moment of splendor of the majestic display of the rooster's wings. Each piece is entirely handmade in sterling silver, 23 karat yellow gold vermeil and 18 karat rose gold vermeil, by means of chiseling and casting techniques. The rooster is then assembled, polished and finished by hand by our master goldsmiths. The final touch is the oval cabochon-cut ruby eyes.

TANE began to make its unmistakable roosters in 1961, from the notes of fighting roosters taken by Pedro Leites in the palenque "Cuatro Caminos". The success of this design was such that president Adolfo López Mateos gave copies of these pieces in a silver case to the kings of Belgium Alberto and Paola, who were on an official visit to Mexico.

TANE's roosters were also acquired by María Félix who had them in her living room table, and continuously took them to Europe to give them to her dearest friends. Their popularity grew among heads of state, royalty, diplomats and celebrities; because of their Mexican symbolism and the important artisan work that each rooster requires from TANE's goldsmiths.

TANE is proud to be the first-ever Latin American brand named Officially Certified Member of the Responsible Jewelry Council.

TANE operates with ethical, social and environmental responsibility, leading change and building trust.
Not available
We will send you an email once the product is available. Your email address will not be shared with anyone else.