Must-have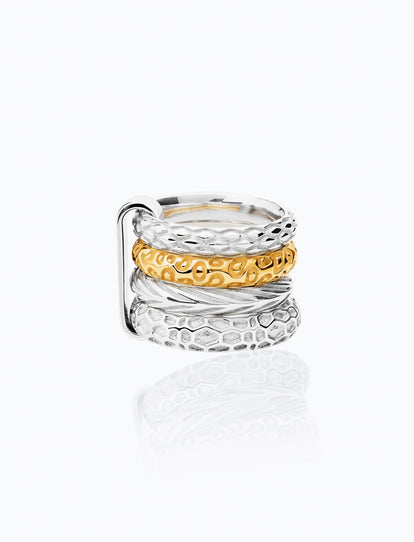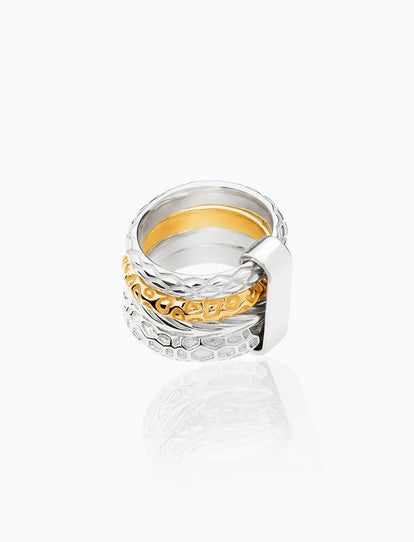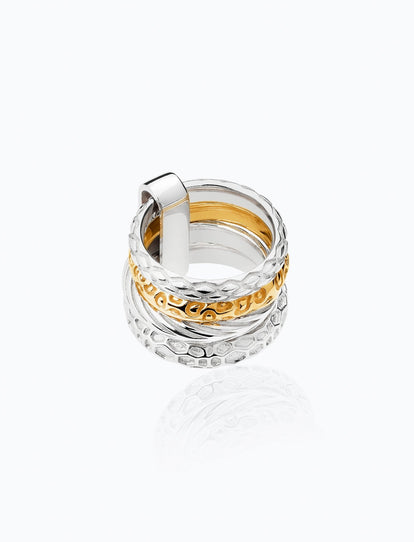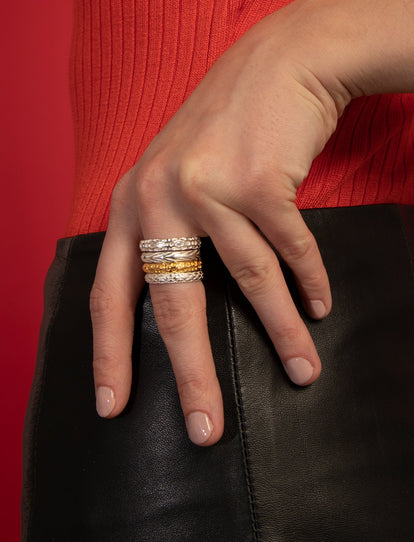 | | |
| --- | --- |
| Dimensions | 0.86" x 0.90" x 0.74" |
| Metal | Sterling silver and 23 karat yellow gold vermeil |
| Code | 01010300043 |
| | |
The Animales Churumbela Ring, from the ANIMALES Collection by TANE, is made in sterling silver with 23 karat yellow gold vermeil. It is composed of five rings joined by a back plate. Each ring is delicately decorated with the texture of the animals of the collection: Turtle, Quetzal, Jaguar and Snake. Handmade in Mexico. TANE, the Mexican luxury brand founded in 1942, once again innovates to surprise its customers with the most extensive collection in the brand's history, ANIMALES by TANE. A beautiful tribute to Mexico's spectacular and diverse fauna, this collection is an invitation to discover the characteristics that we share with different species, such as agility, power, seduction, and strength. ANIMALES is also a collection through which each woman can find a new means to express herself, an invitation to explore those characteristics that make her unique through forty-five different pieces, all handmade by the most talented craftsmen in the country, executed in sterling silver, 23 karat gold vermeil, and 18 karat gold.

TANE is proud to be the first-ever Latin American brand named Officially Certified Member of the Responsible Jewelry Council.

TANE operates with ethical, social and environmental responsibility, leading change and building trust.