Tequila and silver are part of the cultural heritage of Mexico. TANE and Tequila Casa Dragones, two luxury houses rooted in Mexican culture, come together to create this limited and numbered edition: The Ultimate Gentleman's Gift Set.
A handmade set, created as the ultimate gift for gentlemen, made in black leather with blue leather details that retakes the characteristic colors of Casa Dragones and dark gray suede inside. The set contains: 1 bottle of Tequila Añejo Casa Dragones (750 ml), a beautiful handcrafted silver amphora made in .925 silver with the logo of both houses and one .925 silver funnel. This exclusive edition is numbered and limited to 160 units.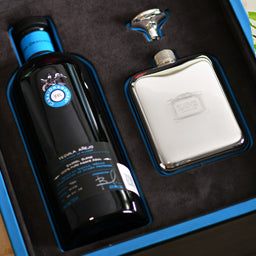 Famous for its designs featuring clean lines, as well as trademark shapes all made in the most precious of metals, TANE's stunning pieces draw inspiration from its Mexican roots, as well as from the country's ancient crafts.
TANE's workmanship is widely regarded as being second to none; every single piece is handmade by the company's talented craftsmen and women, in its proprietary workshops in Mexico.